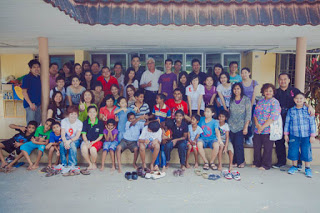 Children's Protection Society, Penang
A few days ago, I wrote about businesses discharging their Corporate Social Responsibility through visiting some orphanages in Penang. Apart from The Ramakrishna Ashrama, these businesses and their representatives visited two other organisations, the Children's Protection Society (CPS) and the Penang Shan Children's Home Association.
Today, I would like to say something about the Children's Protection Society. Now, the CPS began as an initiative of Nazir Ariff when he was the president of the Penang Rotary Club in 1991. The CPS, a non-profit, non-governmental organisation that caters to the needs of neglected and/or abandoned children in Penang, was officially launched in April 1992.
The objectives of the CPS were both immediate and longer-term. The immediate objective was to provide children at risk with a safe, supportive and conducive shelter. Their concerned and focused areas included the emotional and physical development, education, social and recreational skills. At the same time, the CPS aimed to work with parents and other family members so that the children could eventually be reunited with their families. In the longer term, the CPS hoped to support projects to enhance community-based facilities for childcare and development in areas where such facilities were lacking. They also tried to promote a more general awareness of the issues relating to children at risk by being involved in training and discussions. Hence they worked together with various government and non-government organisations to help develop longer-term strategies and goals.
The businesses that participated in this CSR project were Crowdpot Sdn Bhd (event organiser), Ninetology Malaysia, the SUBWAY® branches at Suntech, iAvenue and Leith Street, Chatime Malaysia, Langkawi Saga Travel & Tours Sdn Bhd and Alextan Artworks. Together with several bloggers and members of the public, they visited the Children's Protection Society last month to distribute food, beverages and gadgets.
How can you help Children's Protection Society? Firstly, you can help by becoming a volunteer. Learning and tuition is always needed, and as many of the children have missed a substantial amount of school due to their backgrounds, they often find it difficult to catch up with school work. If you are prepared for the extra challenges which many of our children face and are prepared to commit a regular time a week (can be anything from an hour up), you should consider volunteering your services.
Secondly, you can also take part in their Sponsor-A-Child programme. You can start by talking to any of the CPS staff if you are interested in this matter. Thirdly, donations are always welcomed.If you want to make a financial donation, please send your cheques – make them payable to Children's Protection Society Pulau Pinang – to the CPS at 118-A Scotland Road, 10450 Penang. As the CPS is a registered charity home with the Welfare Department, all donations will be tax-exempted. And fourthly, you can help sponsor an Activity or Outing for the children. The CPS organises many such activities for the children, staff and volunteers.
If you need more information, please contact the society at 04-8294046 (telephone), 04-8294046 (fax) or email them at [email protected].
Credit: http://ssquah.blogspot.com/2013/03/childrens-protection-society-penang.html
Date 4 March 2013