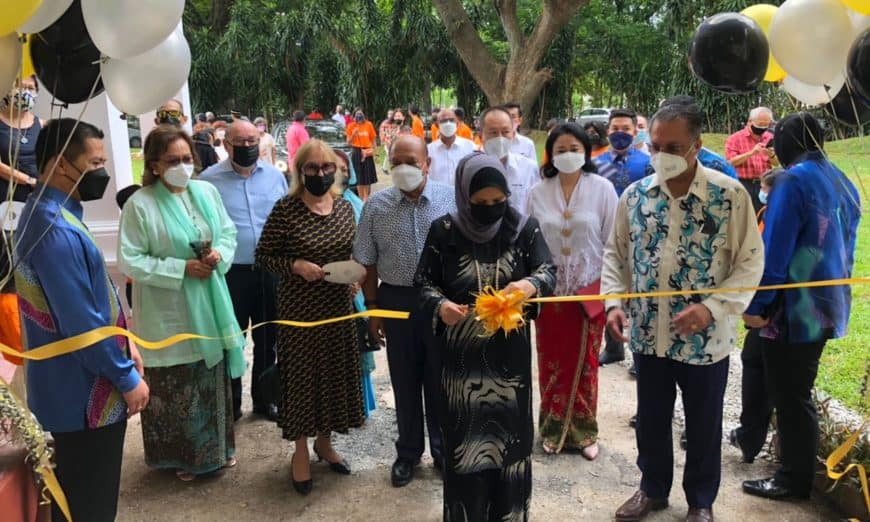 THE Children's Protection Society (CPS) has officially moved to a new and bigger home today at a bungalow located at 258, Jalan Air Itam in George Town.
Measuring about 15,000sq ft in land size, the premises is owned by the Penang Island City Council (MBPP).
It is located about 10 minutes from the previous location in Scotland Road.
The CPS has been home to underprivileged children of various races for the past 30 years.
CPS founder and president Datuk Seri Nazir Ariff said the relocation was much needed, considering the order to vacate one of the two premises in Scotland Road last year.
"We thought it would be better to find a space big enough to cater for all the children, housing the boys and girls together, rather than keeping them separated.
"Although we have spent some 30 years at our old location, a fresh start will do no harm.

From left (front row), Jagdeep, Khadijah, Nazir and Ong during the brief cake-cutting ceremony.
"It will give the children, staff and volunteers a new opportunity to create fonder and beautiful memories.
"Location remains the society's main priority. It is important to ensure that the children are nearer to important facilities to maintain their well-being.
"For instance, our new location is nearer to the Penang Hospital, convenience stores and many other amenities deemed crucial to running such a home.
"I would like to take this opportunity to thank all our dedicated donors, friends and families from far and near. They have helped in our mission to give the best possible stay, food to eat and most importantly, love for the children here.

Overview of the 15,000 sqft bungalow in Jalan Air Itam.
"CPS was set up in 1991 along with some good friends of mine who wanted to make a difference in the lives of vulnerable children.
"Since then, we've had staff and volunteers who were extremely dedicated and clear of their roles here to assist CPS in giving the best for the children.
"The home will not be what it is today without these people. They have all been the life and soul of CPS. To name a few, we have Suria, Elizabeth, Magdelene and others," Nazir said during his speech at the official opening ceremony of the new home in Jalan Air Itam today.
CPS also celebrates its 30th anniversary this year. A simple cake-cutting ceremony took place after the guests of honour entered the bungalow.
Separately, Nazir said that members from CPS and donors had raised some RM500,000 to restore, renovate and upgrade the bungalow into a livable home.
He then extended his heartfelt appreciation to the donors who have made it possible for CPS to operate efficiently.
"I would like to thank the Lim Lean Teng Foundation for their annual grant, as well as the Social Welfare Department, Keysight Technologies Foundation USA, Agilent Technologies, IKEA Southeast Asia, Datin Rosna Yusoff Cockrell and others," Nazir added.

From left, Nazir, Khadijah and Jagdeep having a light conversation.
Currently, CPS houses 30 to 40 children between the ages of five and 18 years old along with 20 to 30 other children under its outreach programme in Butterworth on the mainland.
Meanwhile, state Local Government, Housing, Town and Country Planning Committee chairman Jagdeep Singh Deo said the state would always give priority to the welfare of underprivileged children.
"I take my hat off to Datuk Seri Nazir for his unwavering mission of providing shelter, food and love for the children through CPS all these years.
"It is hoped that you will continue this humble act of kindness for the benefit of many abandoned and underprivileged children in our state," he said.
Also present during the ceremony were Penang Governor's wife Toh Puan Khadijah Mohd Nor and Kebun Bunga assemblyman Jason Ong Khan Lee.
Story and pix by Kevin Vimal,
Source:  buletinmutiara.com, March 19, 2022